Going To Japan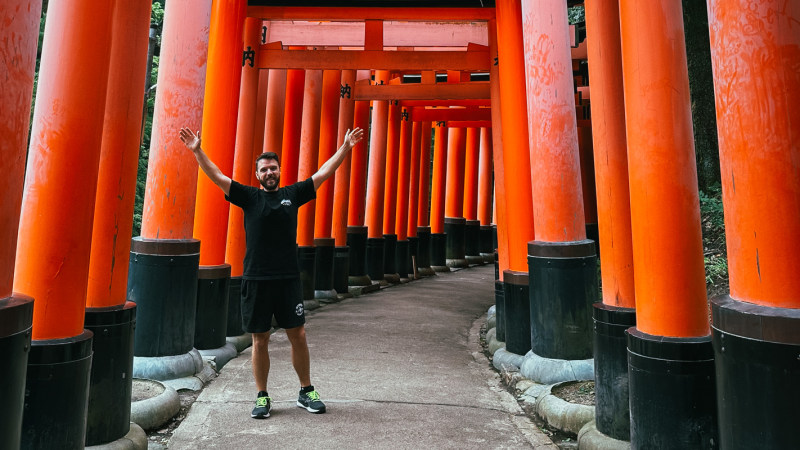 After years of longing to visit Japan, various obstacles stood in my way. Financial limitations and the responsibilities of taking care of a family delayed my plans. However, in my early thirties, the stars aligned as I had saved enough money and secured the most important piece: childcare. Finally, I was able to take my wife and I to 日本. This post covers the highlights, lessons learned, our favorite experiences and places, along with insights into how I planned our two week itinerary.
Check out some of the Japan Trip Pictures.
Itinerary Planning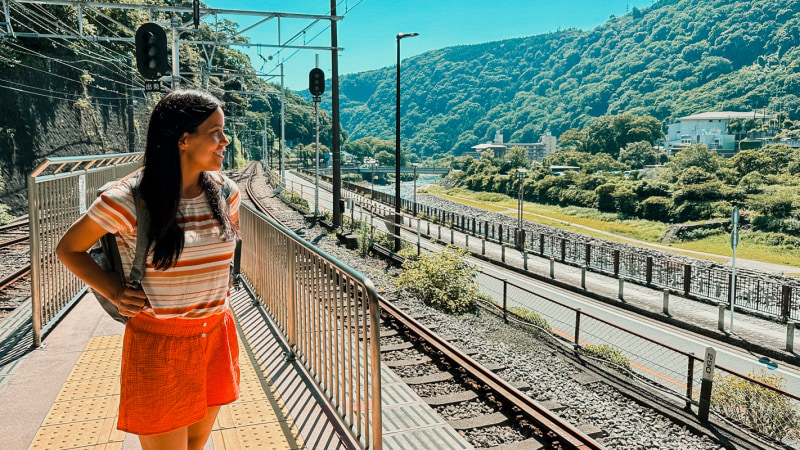 First I needed to buy some plane tickets, and more importantly, select dates. Since our dates were only bounded by summer (because kids), I was able to restrict my flights search within the months of June and July, and find the most affordable flights to Japan with a two week long gap between arriving and departing.
Next I made a short list of things we definitely wanted to do:
Ride the Shinkansen
teamLab Planets
See the Fushimi Inari Shrine
Visit a Cat Cafe
Stay at a Ryokan
Visit a public Onsen
Participate in a traditional Tea Ceremony
After I had my dates and plane tickets bought, I needed to pick some dates and times for things that required reservations in advance, such as: Hotels, Ryokan, Tea Ceremony, and TokyoLab Planets.
I started with a picking a night to stay at a Ryokan (in Hakone) as the ones I had picked out were already filling up. The Ryokan wasn't available for most nights on our two week span, but I was able to book a night in the second half of our trip.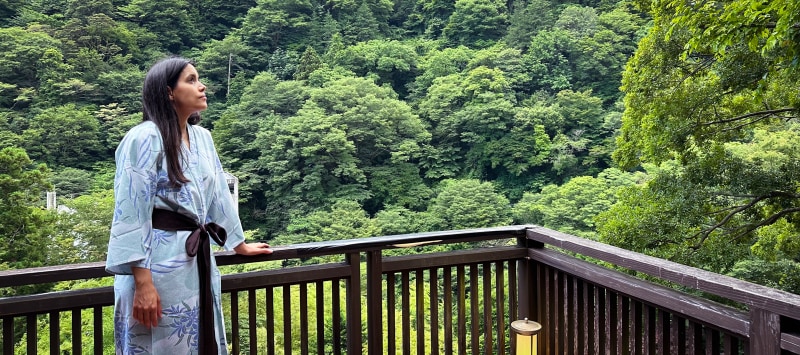 Now that I had the most important accommodation booked, I was able to plan our destinations around it, pick how how long we stay in each destination, and book accommodations in each destination. Our destination itinerary looked something like this.
Land in Tokyo (1 night)
Shinkansen to Kyoto (4 nights)
Train to Osaka (3 nights)
Shinkansen to Odawara > Train to Hakone (1 night)
Train to Shinjuku (4 nights)
Fly Home
After booking accommodations, now I needed to book a few other activities that require advance reservations. I started off by researching Tea Ceremonies in Kyoto, Osaka, and Tokyo. I found a really nice, authentic, and highly rated one in Kyoto and added that to our list: Maikoya Tea Ceremony.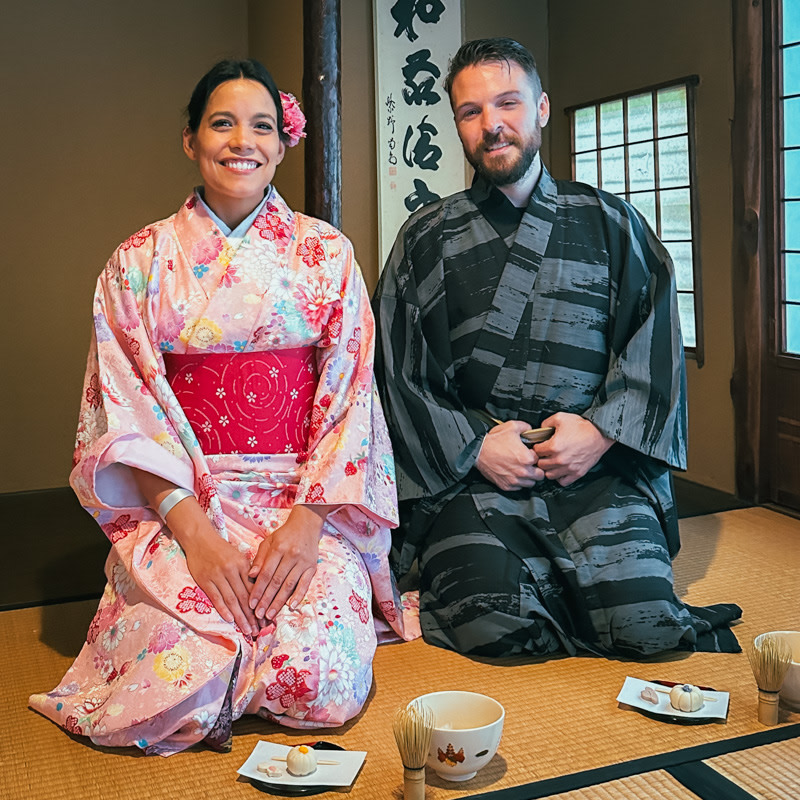 For our first morning after arriving in Tokyo, I took us to teamLab Planets before we took the Shinkansen to Kyoto.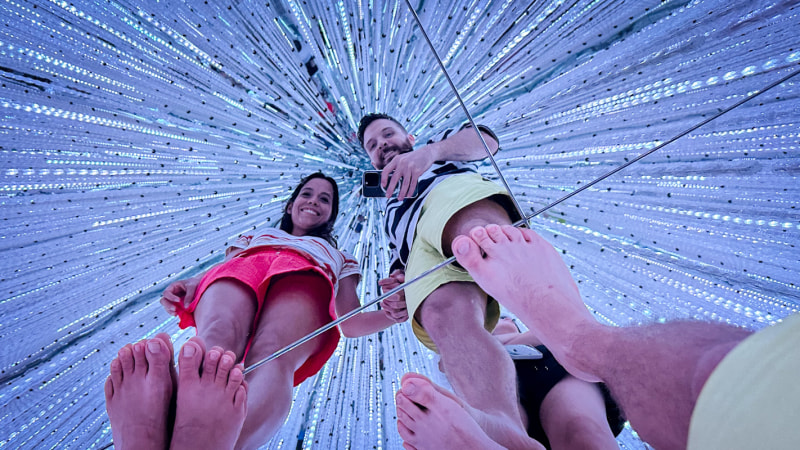 Everything else on our definite todo list was up to us to make happen on our trip. I did not want to plan everyday in advance as we both enjoy flexibility and do what we want to do when we feel like doing it. You never know when you might want to sleep in a little extra, or stay longer in a particular part of town, so it's best to have freedom and not plan out every single day.
What We Liked
Public Transportation
We could get anywhere we wanted by train, bus, and subway with a little bit of walking added in. Add in the fact that a digital Suica card in our Apple Wallet on our iPhone, getting around was effortless and fun. The U.S. desperately needs its own Shinkansen.

Konbinis (7-Eleven, FamilyMart, Lawson)
So easy to stop in and grab a delicious bite to eat.

Cleanliness & Friendliness
Everyone we interacted with (either in english or our broken Nihongo) was very pleasant and everywhere we visited was extraordinarily clean.

No Tipping
Coming from America, I loathe tipping. I was elated at not having to tip for service. I wish America would follow suit and pay employees a livable wage to begin with.

Work Ethic
Putting aside the toxic aspects of Japan's work culture, I really enjoyed how everyone took their job seriously and professionally. Even the job to walk around with a sign reminding visitors of the museum to talk quietly, was performed in earnest.
What We Did Not Like
Wet Hands
It was rare to find a public restroom with hand towels to dry your hands. It is customary to bring your own Tenugui with you.

Slow Automatic Doors
I have never paid attention to automatic doors much in America, but in Japan, I almost walked into a few that don't open at a pace I am accustom to.

No Eating In Public
While not the law as far as I know, people in Japan do not eat or drink in public or even walking on the streets. It is customary to take your food to eat in private either at home, a park, or the place you purchased your food from. You will see people eat right outside street food vendors as that is expected, but you want see people casually eating their street food as the walk down the street. We personally weren't a fan because my wife basically needs to eat every hour or so and has a bag of snacks ready to eat.

Osaka Wasn't For Us
We didn't not enjoy our stay in Osaka, but we found Osaka not as beautiful, humble, and clean as Kyoto, lacked a cultural feeling and friendly atmosphere that was more prevalent in Tokyo. We definitely didn't like sharing the sidewalks with bicycles in Osaka where as in Tokyo they had lanes in the roads. Interestingly, other's anecdotes on the internet I have read have had the opposite experience as us and they enjoyed Osaka much more than Tokyo.
Favorite Sights
Fushimi Inari
A mesmerizing Shinto shrine famous for its thousands of vibrant torii gates, creating an enchanting pathway through the sacred Mount Inari, inviting that took us on an enchanted scenic journey, located in Kyoto.

Kinkaku-ji Temple
Also known as the Golden Pavilion, is a breathtaking Zen Buddhist temple in Kyoto, Japan, adorned in shimmering gold leaf and surrounded by picturesque gardens, creating a serene and awe-inspiring atmosphere.

Odawara Castle
A majestic fortress that stands as a testament to Japan's rich feudal history, offering visitors a glimpse into the country's architectural and cultural heritage, located in the center of Odawara.

Nara Park
A captivating sanctuary where friendly deer roam freely amidst ancient temples and lush greenery, creating a fun and magical atmosphere where you can also watch tourists get bit by overly-friendly deer.
Favorite Stores
Favorite Eats
Things Learned
Don't use Google "My Maps". Just save your hotels and destinations on Google Maps under a "Saved List".
Bring a coin purse for all of your change.
Pack less than you think. YAGNI. (you ain't gonna need it)
Umbrellas aren't just for rain, they are for the sun too. Umbrellas are so ubiquitous that most places have umbrella stands outside.
Showing effort in learning and speaking Japanese is much appreciated by natives.